A Friend… experiencing the water shortage at Agape
Today I want to share some water hauling photos. We have had many occasions now when we have had to haul water. Sometimes we are lucky, and it is only the inside taps that are shut down. Then we can access water through taps in the yard. However, sometimes we are not so lucky. One time we were without water for three days. We collected rain water from the roof for cleaning and bathing, and hauled water from a borehole for drinking and eating. The water board, which is right next door to us, allowed us to get some large containers filled with water during this period as well. It is difficult to be without water when your family is close to 90 people, you do laundry by hand, you walk long distances to school, and you play football (soccer) in the dirt in your bare feet!
Recently, we were without water for two days, and so was the rest of the surrounding area, even the city of Lilongwe! The only safe water options were walking to a borehole or buying from a truck. I never did see a water truck, but I understand that they were selling water in town. When we were without water this time, the nannies took most of the children to the borehole, and they bathed in the bushes there, rather than hauling water back to the orphanage. The strength of the older girls and women, to be able to haul laundry tubs full of water on their heads, still amazes me. I helped haul some water, but they only gave me a small bucket. I still haven't tried carrying a really heavy load.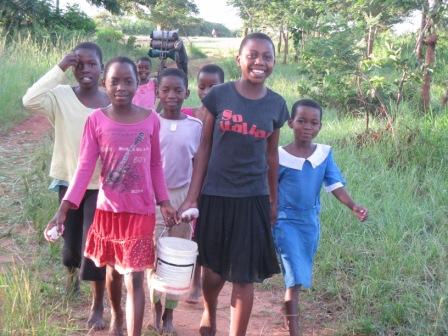 Here some of the younger girls are bringing back water from the borehole. The older girls had already hauled several large buckets. In the background there is a charcoal vendor coming into the orphanage on his bicycle to sell cooking fuel.
Chifuniro & I are hauling from the house to the boys quarters. He and Lloyd had retrieved the water from the borehole. My load was fairly light, as some had splashed out before Lloyd got back to the house. Chifuniro was hauling his the "Canadian" way when I saw him. He was just holding it by the handle. He spilled less, but I helped him get the bucket up on his head so that he could haul like a real Malawian. In the process I had a little shower as well, but we didn't lose much water.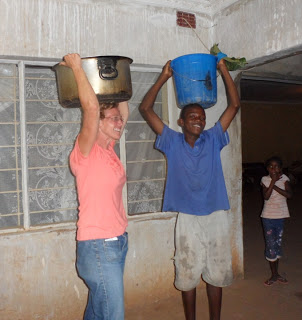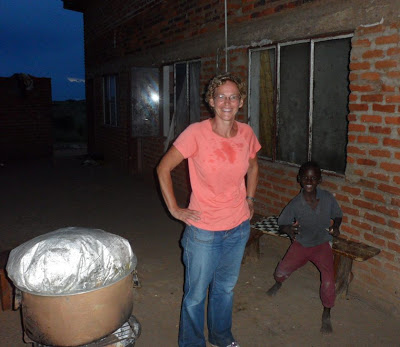 In this photo there are pumpkins steaming for supper, and you can see a bit of spillage from hauling water. When I was hauling full buckets with the nannies I learned why Malawians walk so much slower than I do. You just cannot walk fast with a bucket full of water on your head, and expect to stay dry. At lease the water is fairly warm here, and it doesn't take to long to dry off again. Yesterday I did learn a secret though. If you put a few branches on the surface of the water while you are carrying it, you are much less likely to lose your water due to splashing.
Even Ryan wanted to get in on the action and help out!